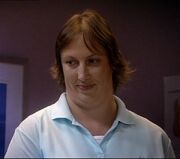 The Acupuncturist (portrayed by Miranda Hart) was visited by Lee in an effort to deal with his stress. She liked to use humour to put her customer's at ease. Even before they started Lee accidentally insulted her by suggesting she was pregnant when she wasn't. Things continued to go down hill when he questioned whether acupuncture was anything more than nonsense. He also insulted the French, not knowing that the acupuncturist's husband was French.
Lee eventually got into an argument with her and she suggested he go see a doctor as he was the most uptight individual she had ever met, which further annoyed Lee and resulted in the end getting into a brawl. ("Stress")
Ad blocker interference detected!
Wikia is a free-to-use site that makes money from advertising. We have a modified experience for viewers using ad blockers

Wikia is not accessible if you've made further modifications. Remove the custom ad blocker rule(s) and the page will load as expected.