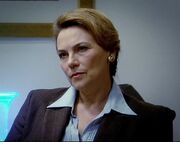 The Therapist (portrayed by Lorelei King) was a Californian therapist working in London.
Kate suggested Lee visit her to get more in touch with his emotions. Lee found the experience uncomfortable as his use of humour had no effect on the therapist, who saw through his act with ease and that he had feelings for Kate. She suggested that Lee tell Kate how he felt and all he needed was the right moment. ("Death")
Ad blocker interference detected!
Wikia is a free-to-use site that makes money from advertising. We have a modified experience for viewers using ad blockers

Wikia is not accessible if you've made further modifications. Remove the custom ad blocker rule(s) and the page will load as expected.